Treefort is almost here! Now is the time to start making plans for bouncing around the fest, building your schedule, planning your cute outfits, shining up your steel cup & getting ready to P-A-R-T-Y at Treefort 11!
The minute you arrive at Treefort Music Fest is when the element of discovery begins. If you aren't sure where to go, you can always make Main Stage at Julia Davis Park your home base, or swing by the Ranger Station to ask for all the hawt tips.
Here's all you need to know for Treefort 11! ⤵️
---
How to Get Around Treefort 11
TREELINE
Valley Regional Transit will operate the Treeline shuttle service Wednesday through Saturday of the fest. It's a super fun, social and easy way to zoom from venue to venue. This year there's two Treeline buses that will run from 6pm – 12am, Wednesday 3/22 – Saturday 3/25. Look for the decorated bus stops throughout downtown Boise. New this year, the Treeline will make a stop in Julia Davis Park to get you to and from the Main Stage.
BONUS! There will be bands performing on the Treeline – lineup TBA!
The Treeline is free for anyone (no festival wristband required!) PLUS, anyone with a festival wristband can ride any regular Valley Regional Transit bus route for free during the duration of the festival. Just show the driver your wristband. Note: There is no bus service on Sundays.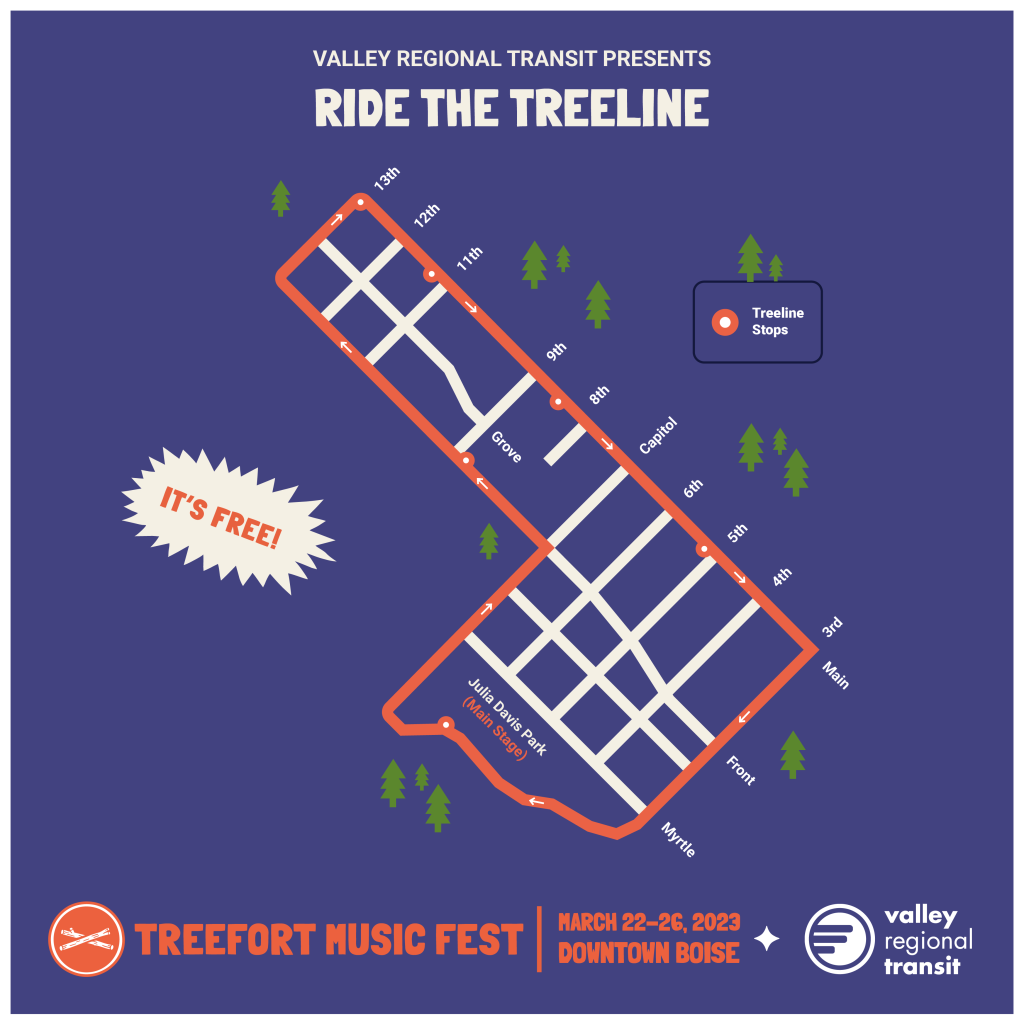 BIKE
Biking is a super fun and easy way to get around the fest, especially since Julia Davis Park is right on the Greenbelt! Boise Bicycle Project will be back with two bike parking stations in Julia Davis Park to support bike commuters during Treefort, so you shouldn't have a problem getting a VIP parking spot for Main Stage.
SKATE OR SCOOT
There are so many efficient and affordable ways to get from place to place during Treefort. Grab your skateboard, blades or rollerskates to get around, and head to Skatefort while you're at it! Boise also has electric scooters that you can take from venue to venue.
✦ BONUS! Download the Lime app now to get 30% off during Treefort + Lime will provide a scooter corral on-site at Julia Davis Park. Roll on!
WALK
Those boots are made for walkin', aren't they? Explore Treefort on foot and discover even more! Who knows what you will hear, see or experience while walking around downtown Boise. If you've never been to Treefort, rest assured knowing that our downtown is very flat and walkable, and all the venues are just a few minutes from each other!
✦ PRO TIP: change your shoes each day and consider adding insoles
CARPOOL & PARKING
Let's be real — cars can be a real hassle during Treefort. If you have to drive, bring your friends along or hop into your friend's car and park near downtown, then walk the rest of the way in. Boise State will offer daily parking to festival goers, or you can also utilize parking garages in downtown to park your whip for the day. Note that these parking areas are for day use only, so if you plan staying out late and/or sippin' on Alefort's finest…it's best to make other arrangements.
Festival parking at Boise State:
Festival attendees can park in Brady Garage, Wed 3/22 – Sun 2/26.
Parking is $5 per day.
Pay at the parking kiosk before you leave the garage. Select Treefort Music Fest & follow the step by step instructions. You will need your license plate number to pay!
Cars must be moved by 10am the following day or risk a citation.
TREEFORT TICKET INFO
If you haven't already, snag your Treefort passes ASAP!
The easiest way to Treefort is with a five-day Festival Pass. This will get you into all music venues, fort events (with the exception of Foodfort dinners), and everything in between.
Don't want to wait in line? You'll want a ZIPLINE, which allows you to skip to the front of the line at every music venue…and Alefort!
Around for only one day? Get yourself a single day pass to allow yourself to explore Treefort for just one day/night.
If you are looking to see shows over more than two days, the best deal is going ALL IN.
A 5-day pass is about $50/day to see 530 artists from across the globe…yep, 19 countries will be represented at Treefort 11!
With the full pass you can attend Comedyfort, Filmfort, Hackfort, Yogafort, Artfort, Dragfort and so much more.
If you're in the 9-5 grind, no problem! You have plenty of time to catch events during the week to make it worth your while. There are over 100 events between 5pm and midnight during the week…then it's the freakin weekend!
If you are still getting a feel for Treefort, walk around and check out the free forts & festivities!
Alefort is a great place to start. Sip and sample local and regional beer, wine, cider, and cocktails.
You can also experience Artfort, Comedyfort and Dragfort within Alefort, plus enjoy live music on the infamous Gene Harris Bandshell!
Experience the forts of the fest. You can access Artfort, Dragfort, Kidfort, Skatefort, Storyfort, Music Talks and Podfort without a Treefort wristband. Please note some events may require a cover charge or Fort Badge.
Looking for more music? Catch a free show at the Cyclops Stage, Payette Brewing, Lost Grove Brewing, Boise Brewing, and Camp Modern!
TREEFORT TOKENS ON SALE NOW
Already looking forward to crackin' a beer at Main Stage?! NEW THIS YEAR! Pre-purchase your Treefort Tokens!
Starting today (March 2), you can pre-purchase Treefort currency in packs of 5 tokens or 20 tokens and save a few bucks to spend on drinks or merch! Buy now and pick up your tokens when you pick up your wristband at Julia Davis Park.
5 pack tokens $21.25 (plus taxes + fees)
20 pack $80 (plus taxes + fees)
Token packs will be available for pre-sale only through Tuesday, March 21. During the festival, you can purchase individual tokens. Tokens are used at Alefort Pub + Lounge, all bars within Julia Davis Park, the Hound Lounge at the Bus Station, and at the BBQ with Tuffy Stone on Saturday 3/25 at the Bus Station (for GA only; a limited number of VIP tix are available for $100, no tokens required).
✦ FUN FACT! 12% of beer sales goes directly to the park! Drink beer = support your local parks.
BOX OFFICE + WRISTBAND PICK UP
If you have already purchased a Treefort Pass (five-day, ZIPLINE, U21, Main Stage, or Single Day), you will pick up your wristband at the Wristband Pick Up Booth at Julia Davis Park. There will be no pass sales within the park, only pre-purchased passes will be available for pickup within the park.
If you have not purchased a festival pass & plan to buy one during the fest, you can:
Buy a pass online via your phone and pick it up at the Wristband Pick Up at Julia Davis Park
Buy a pass at Treefort Music Hall Box Office (722 W Broad Street)
Buy a pass at one of the two Downtown Boise Bodegas: JD's Bodega (161 N Capitol Blvd) or Bodega Boise (1007 W Main St)
TREEFORT ESSENTIALS
TREEFORT APP
This one may be the most essential of them all. The Treefort App is your guide to *everything* at the festival. Get a real time view of what is happening at any given moment of the fest, build your schedule, share your schedule with friends, check the line at venues, get directions to venues, and so much more.
COMFY SHOES
You'll be doing a lot of walking & dancing so be prepared to run wild all five days of the fest. Treefort tip: change your shoes every day of the fest!
LAYERS OF CLOTHES
Nights might get a little chilly and let's be honest, it could definitely snow at least once during the fest (even if it's just for like 15 minutes). If you're in need of some Treefort swag, check out our merch store at the fest!
SUNGLASSES & HAT/BEANIE
We have lots of outdoor spaces and stages at Treefort. Maybe the sun will be shining in your face, maybe the breeze will blow your hair around, or maybe you just want to look cool. Either way, bring some sunnies & a hat, or buy yourself a cute new Treefort hat at the merch store!
REUSABLE WATER BOTTLE & STEEL CUP
Don't forget to stay hydrated! Main Stage only serves draft alcoholic beverages in steel pint cups to eliminate waste and Alefort serves beverages in 8oz or 16oz steel cups. Buy a Treefort water bottle or steel pint cup or BYO (steel cups must be 16oz)!
FANNY PACK OR BAG
Consider bringing a lil bag for your phone, wallet, merch purchases and other belongings. Don't have a fanny pack? Treefort has your back (or rather, your hips). Check out our merch store at the fest and scoop up a cute fanny pack, purse or shoulder bag!
EARPLUGS
Five days of rocking out will take a toll on your earholes! Protect yourself from hearing loss with your own pair of reusable earplugs or find some near the Main Stage, provided by our pals at St. Lukes.
YOGA MAT
For those who will be attending a Yogafort class or two, please bring your own mat.
MOBILE CHARGER
What if you see Ani DiFranco at the UMO show but your phone's dead so you can't take a selfie?! Tragic. On-the-go charging will save your life when you've lost your friends or can't remember when Cautious Clay starts. (FYI: it starts at 9pm on Saturday 3/25 at Main Stage!)