Attention Treasure Valley Treeforters: we've got a super special deal just for you ⚡️ $50 off regular Discovery priced passes!
For ONE DAY ONLY you can get your Treefort Music Fest 2024 5-day passes for $220* during the LOCALS ONLY SALE on Friday, September 8, 2023 from 10am-8pm MT, available in person only at The Record Exchange!
This exclusive offer is available only IN PERSON at The Record Exchange. So mark your calendars, gather your friends, and make sure you're there to take advantage of this incredible deal.
Please note that this offer is available on a first-come, first-served basis and limited to 4 passes per person, so don't miss out on your chance to snag your discounted passes before they're snapped up by fellow festival-goers.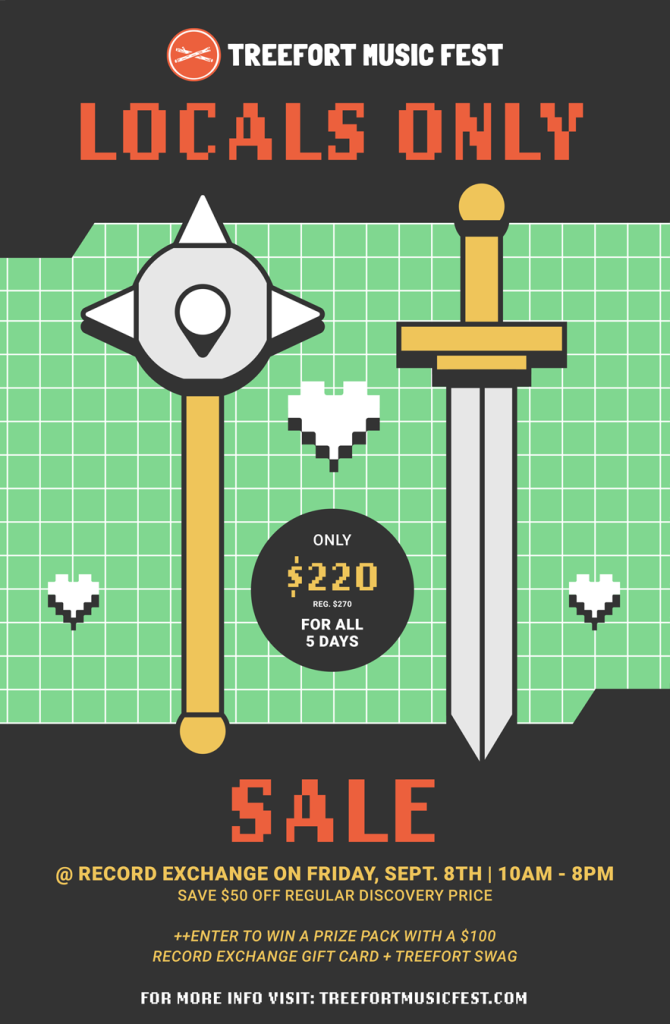 In addition to giving you a stellar discount on your 5-day pass, everyone who purchases a Locals Pass at the RX will be entered to win a prize pack featuring Treefort and Record Exchange swag, including a $100 store gift card!
…AND THE DEALS DON'T STOP HERE!
Get your festival fits ready at the Treefort Merch Sale, happening ONE DAY ONLY at Shrine Social Club (across from Record Exchange). Get 25% of ALL Treefort merch on Friday, September 8 from 10am-7pm or shop online through Saturday, September 30 with the code HOT25OFF.
MORE INFO
For more information about Treefort 2024, lineup announcements, and festival details, stay tuned to our official website and social media channels.
*prices listed above do not include any applicable ticketing fees or taxes.