The Treefort 11 countdown is officially on…and up!
Celebrate the beginning of Spring at First Thursday in March with a stroll around downtown Boise, admiring all the new paintings on various windows. We have partnered with nearly 30 talented artists to create one-of-a-kind Treefort-inspired artwork for Downtown Boise businesses to get you into the Treefort spirit.
Get out and about on First Thursday and use our convenient (and cute) map as you are bouncing between tastings, tunes, shows and shopping to guide your experience. Have fun out there!
---
Treefort Window Walk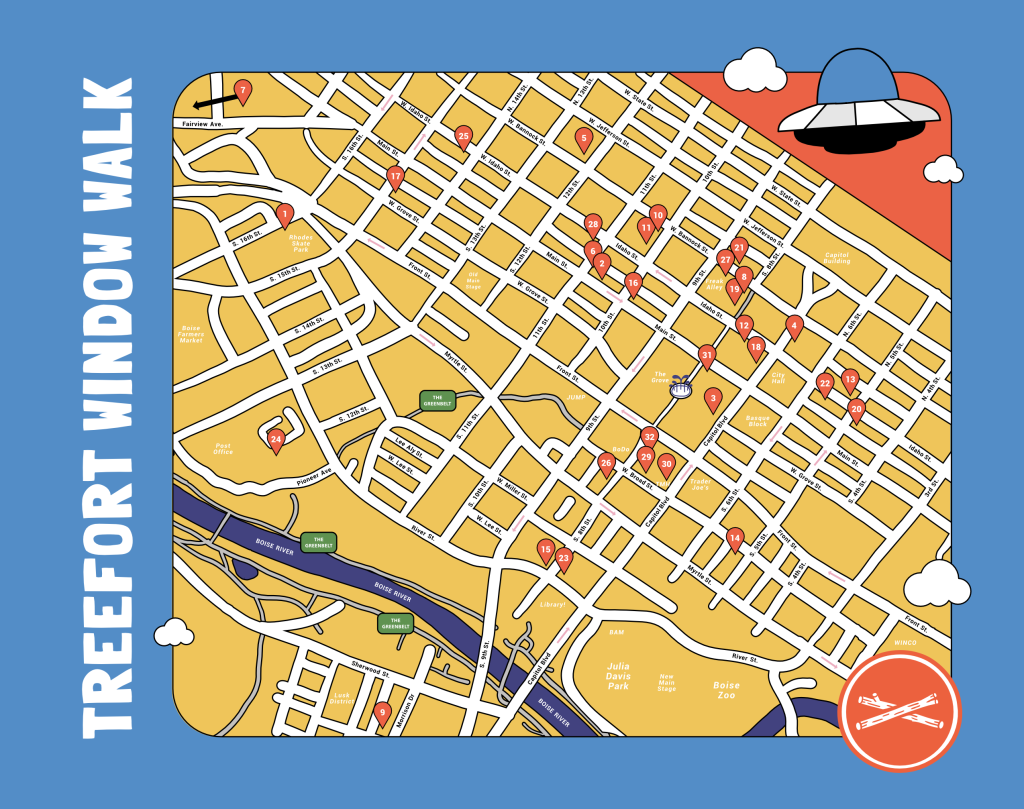 Americana Pizza | Ryan Hentzen
Barbarian Downtown Brew Bar | Sadie Schrenkeisen
Boise Centre | Justin White
Boise Fry Company | Lane Day
Bus Station | Walter Gerald + Quincee Lark
Calle 75 Street Tacos | Chase Oneida
Casanova Pizzeria | Joelle Ater
Dawson Taylor Coffee Downtown | MJ Pope
Dawson Taylor Coffee Roasters | MJ Pope
District Coffee House | Rebecca Mulberry
Edge Brewing | Wyatt Wurtenberger
Fluff Hardware | Danny Wheeler
Flying M | Jane Alice Van Doren
Form & Function Coffee | Andie Kelly
Goldstein's Bagels | Sadie Schrenkeisen
Guru Donuts | Mitsuko Stoddard
Hops & Bottles | Justin Masi
JD's Bodega | Sean Ahern + Megan Sharratt
Juniper | Justin White
Lumos Optical | Indigo-Blauch-Chappell
Mad Swede Brew Hall | Kayleigh Rice
Ochos | Ryan Hentzen
Old School | Pen Wilson
Payette Brewing Co. | Lily Black
Pine Coffee Supply | Diana Cook
Slow by Slow | Ashley Dreyfus
The Chocolat Bar | Mitsuko Stoddard
The Record Exchange | Casey Helmick
The STIL | Kim Bennett Porter
Treefort Music Hall | Jay Smith
Valley Regional Transit | Jacey Adams
Warehouse Food Hall | Julia Green + Hannah Burrell
Treefort 11 Warmup Party at Record Exchange
After a three-year hiatus, The Record Exchange's annual Treefort Music Fest Warmup Party is baaaack!
Flex your festival muscles with a free in-store set from Treefort 11 artist Bone Haus, in celebration of the post-punk psych-rockers' new release 'Confoundead,' which will be available for purchase at the event. Guests can also enter to win a 5-day Treefort pass! (Must be present to win.) The Treefort 11 Warmup Party at Record Exchange is free and open to all ages!
The Motet at The Olympic
After you've hit RX and caught Bone Haus, bounce over to The Olympic for The Motet! Boulder's mighty funk juggernaut is in Boise to bring you an evening of groovin', dancin' & vibin'.
Duck Club Presents
THE MOTET
The Olympic Venue
7:00PM Doors / 8:00PM Show
$22 adv / $25 door
21+