Celebrate the arts – from visuals to performances to ultra-immersive experiences – at Treefort Music Fest.
Find festival faves like the Treefort Gallery and captivating performance art productions, plus some brand new experiences that will stretch your imagination to the limits.
Explore Artfort all over Treefort Music Fest and Downtown Boise! Fall into a trance with performance art events happening Greyhound Station, The Egyptian Theatre, and more TBA locations. Peruse the Treefort Gallery within Alefort, Greyhound Station, and other TBA locations. As usual, Artfort is free and open to the public of all ages, however some content may not be appropriate for small children or in select 21+ venues.
---
ARTFORT 2023 PERFORMANCE ARTISTS
Joseph Hernandez
(Dresden, Germany)
Nationally renowned choreographer Joseph Hernandez will create an intimate, site specific dance theater installation at the Greyhound Station.
Joseph Hernandez was born in Fort Knox KY in 1988. He graduated from the School of American Ballet in 2007, and was awarded an apprenticeship with the New York City Ballet that same year. Later he was invited to join Ballet Austin, The Royal Ballet of Flanders, Les Ballets de Monte Carlo, and subsequently the Semperoper Ballett Dresden. His work as a choreographer has been presented with critical acclaim by such organizations as The Joyce NYC, Festspielhaus Hellerau, The Semperoper Dresden, and Les Ballets de Monte Carlo. His work The Lavender Follies was filmed for European Television by ZDF Deutschland and has now been disseminated worldwide. He has been a guest teacher at SUNY Purchase College as well as the Royal Danish Ballet and Artof (Zurich) summer courses. He was appointed Associate Choreographer at the Northwest Dance Project in 2022 and he currently lives in Dresden, Germany.
Ballet22
(Oakland, California)
Founded in 2020 by Roberto Vega Ortiz and Theresa Knudson, Ballet22 exists to push the boundaries of what is possible in ballet by focusing on producing and presenting works, ranging from classical to contemporary ballet, that break gender normative traditions. The company is dedicated to commissioning works that bring representation to the LGBTQ+ community. The company is guided by values of inclusivity of body type, gender identity, and race.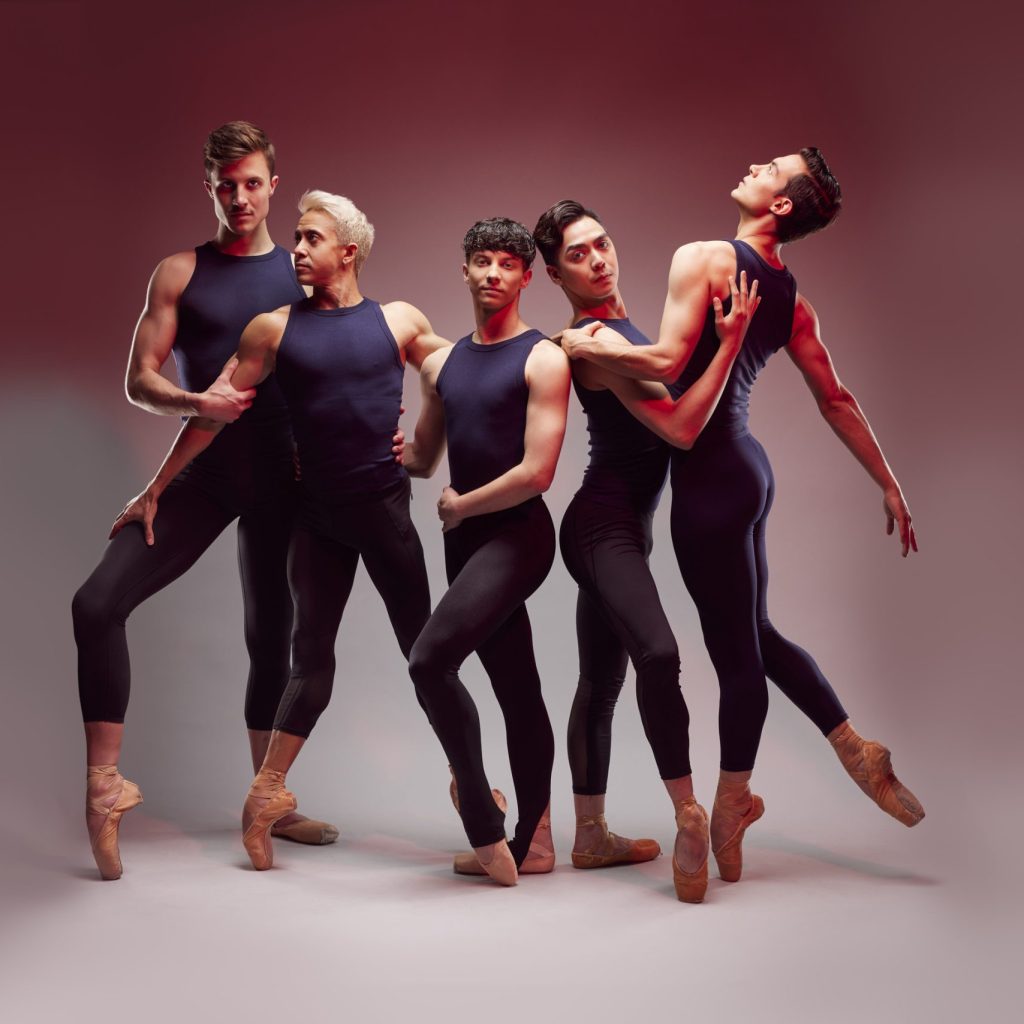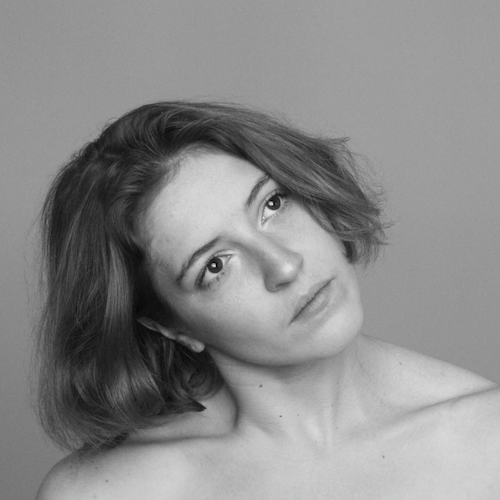 Selby Jenkins
(Brussels, Belgium)
In my shakin' hands is a solo performance in three parts made and performed by Selby Jenkins. In attempts to manifest, and furthermore, retrieve the stories of two of her grandparents prematurely lost to suicide. This performance mystically hypothesizes memories about Selby's grandparents Teresa Servatius and Fred C. Jenkins, rendering multiple potentialities of their 'future' mobility extrapolated through the descendant's body and imagination. Uncovering a deeply personal yet profoundly political resonance of war in US American sociocultural domestic life, and the subsequent mental illness and disease created thereafter, in my shakin' hands delicately dissects a family lineage entrenched with violence, bearing generational echoes and carrying blood across oceans.
Project Flux Dance
(Boise, Idaho)
Project Flux is a performing arts nonprofit organization that fosters an environment where artists can work together, without hierarchy, to create experiences. It takes the time to transform non traditional spaces into immersive environments that break the fourth wall between performer and audience member.
Project Flux is committed to community engagement through project collaboration and weekly community classes. Project Flux will create a site specific work to activate Greyhound Station.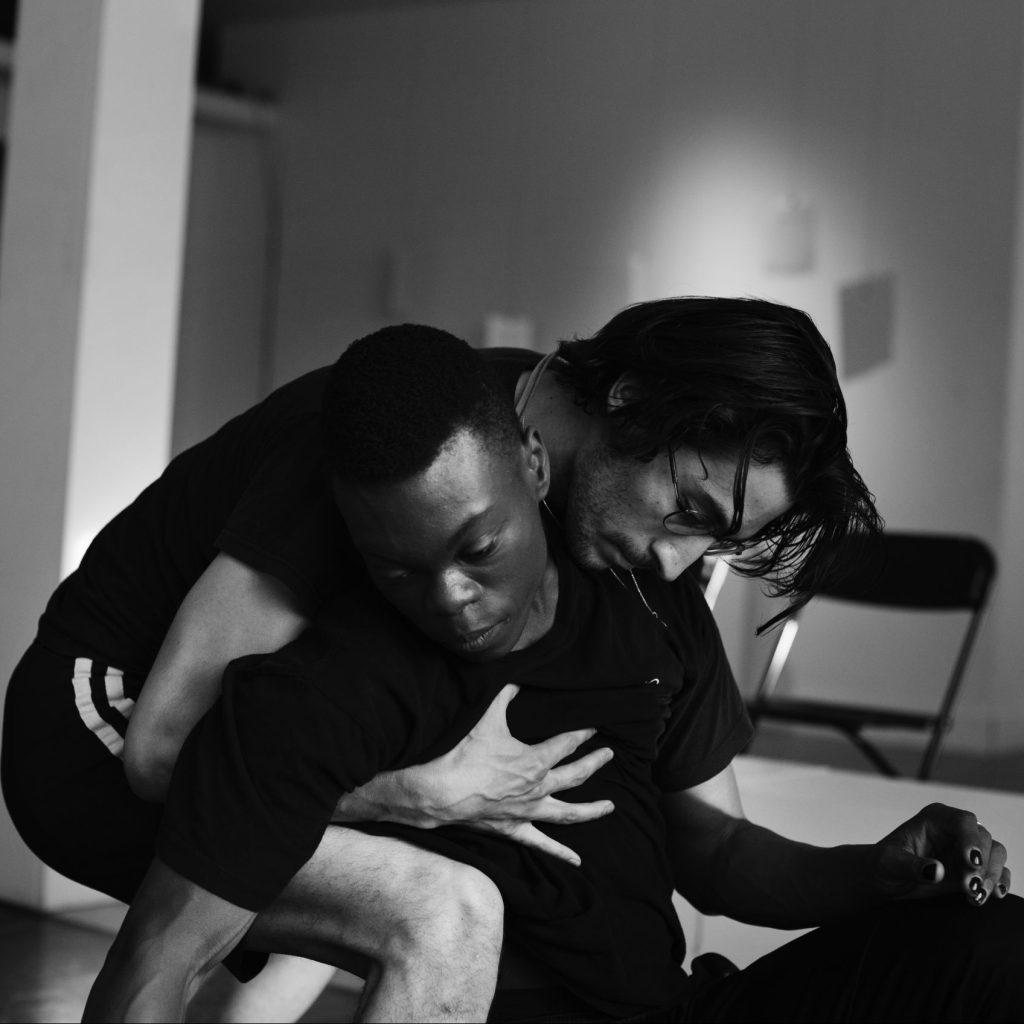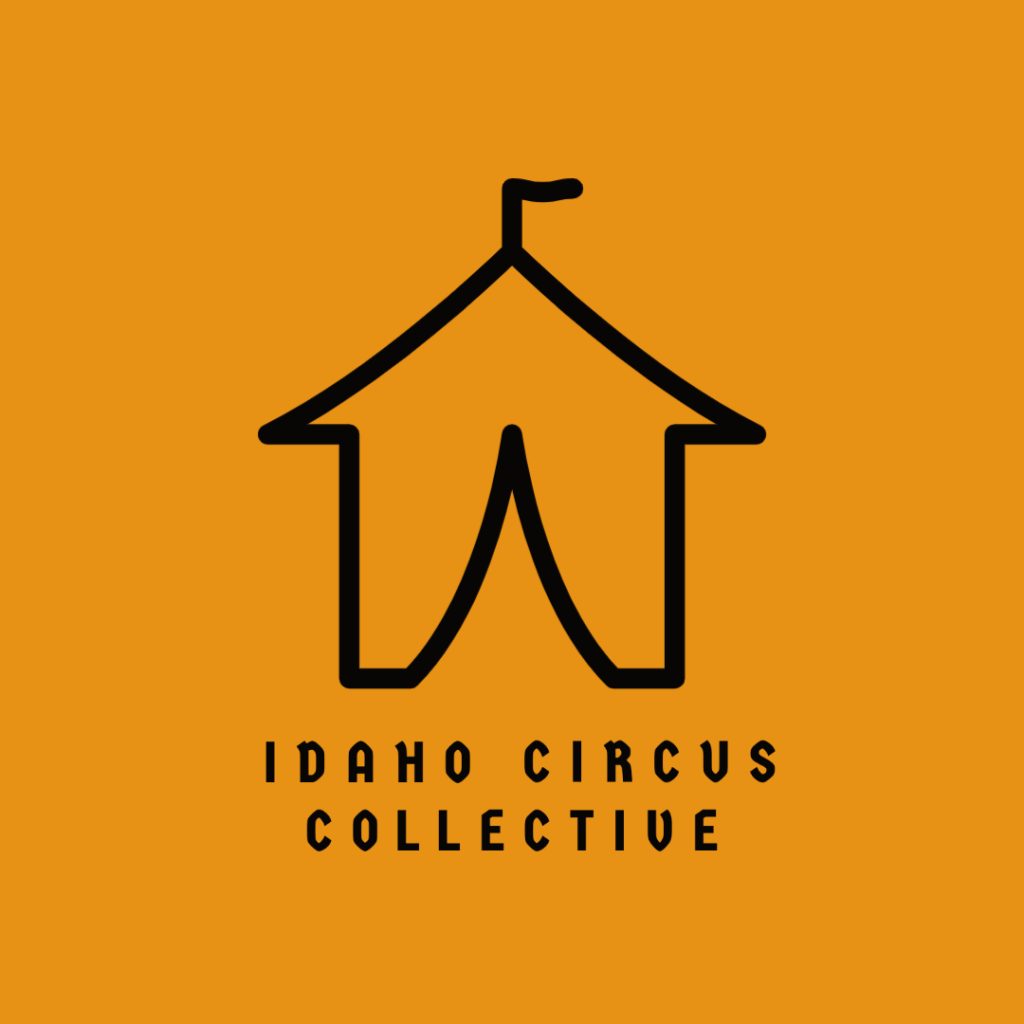 Idaho Circus Collective
(Boise, Idaho)
Idaho Circus Collective is a performing arts collective created to bring cirque-inspired entertainment to the Treasure Valley. There are several performing circus artists in Idaho and our goal is to bring them all to you under one roof. By bridging the gap between local artists and performing opportunities, it's our mission to create space for all circus enthusiasts. You never know what discipline will spark your passion.
---
ARTFORT 2023 VISUAL ARTISTS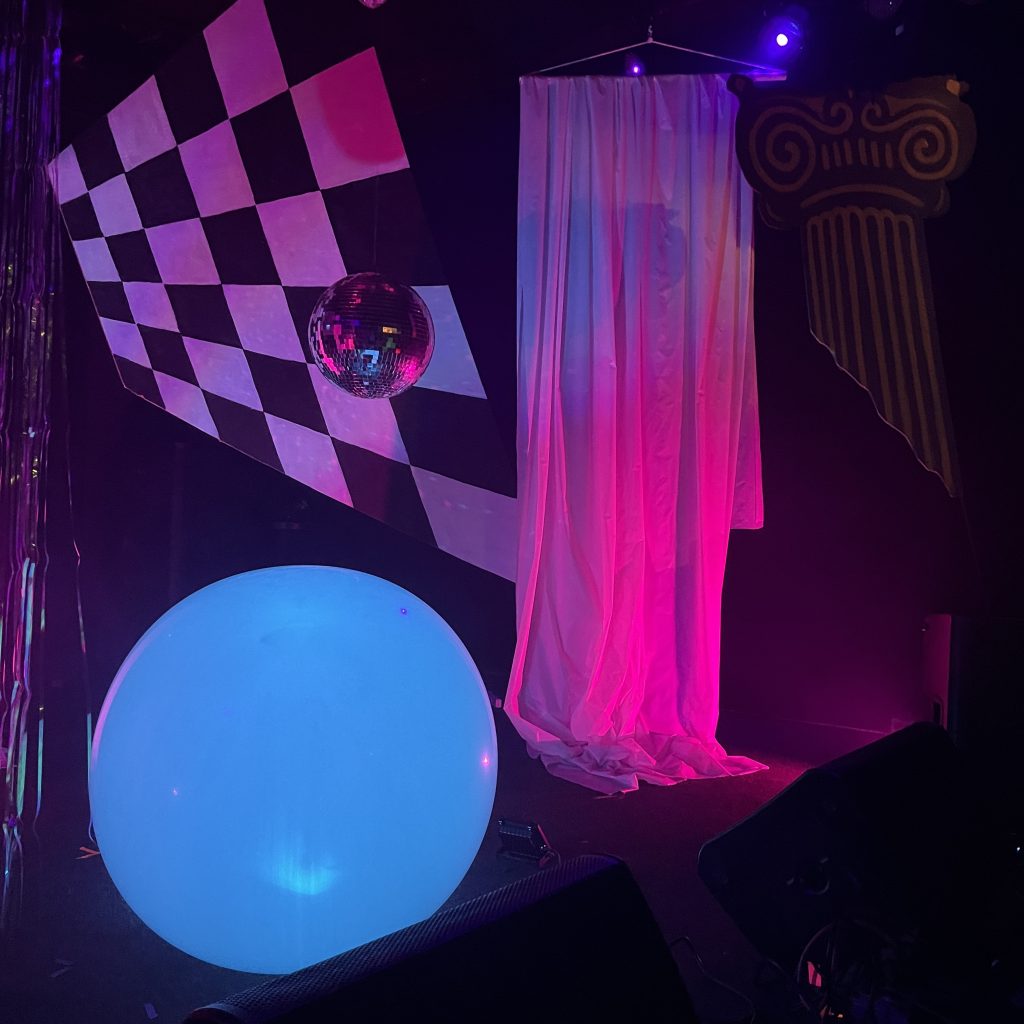 ArtCraft
(Boise, Idaho)
ArtCraft is Josh Pew and Rob Loucks and paint and glue. They will be creating a large-scale installation at the Greyhound Station.
INFLATABILL
(Santa Rosa, California)
Bill Kennedy aka INFLATABILL is an artist and designer from Northern California. Having learned to use a sewing machine at an early age, it wasn't until Bill started skydiving in his 20's that he got serious about his sewing skills and eventually became a Senior Parachute Rigger. A decade later, he used those same skills to begin making inflatable sculpture, and he has been refining his skills ever since. Bill begins by making a 3D computer model he then uses to create 2D fabric patterns. Sometimes he cuts out the fabric pieces by hand, but he typically lets a computer-controlled fabric cutting table do the hard work. After that, he sews it all together, wires up the electronics, and programs the lights.
As much as Bill enjoys making inflatable art, his favorite part is the installation process. Whether it's a nightclub, convention center, forest, or city park, every location comes with its own set of challenges and requires a unique combination of rigging techniques. Bill is excited to bring his artwork to the Treefort trees. Although he has family roots in Idaho, this is his first time visiting Boise.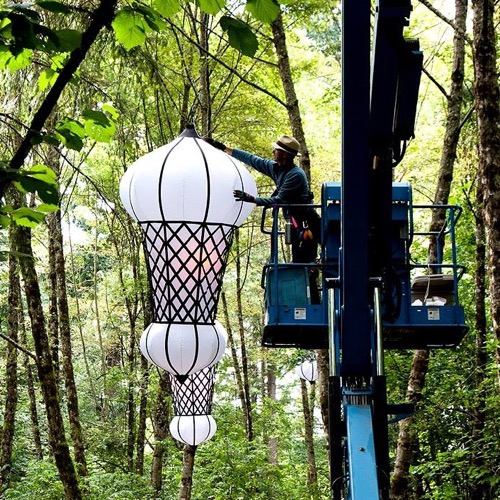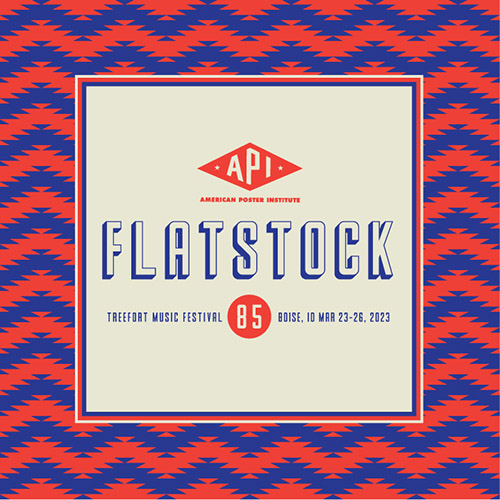 Flatstock
(San Francisco, California)
The Flatstock poster show series is presented by the American Poster Institute (API). It is an ongoing series of exhibitions featuring the work of many of the most popular concert poster artists working today. Flatstock will bring hand-printed, limited edition concert posters and artwork to Treefort Music Fest.
Animoscillator
(Bozeman, Montana)
Animoscillator is an interdisciplinary mixed & multimedia artist, specializing in analog video. He has been hired to mix live visuals for bands and DJs, commissioned for clothing lines, ad campaigns and music videos. His work has been shown in storefronts and galleries around the world. At Treefort 11, he will use CRT TV to construct an installation that plays my original analog video art. You can see more of Animoscillator's work on Instagram @animoscillator.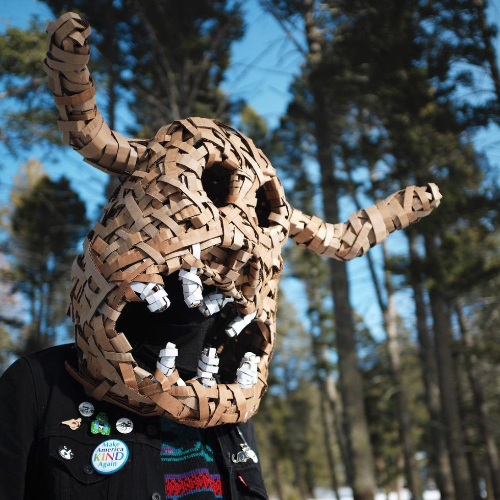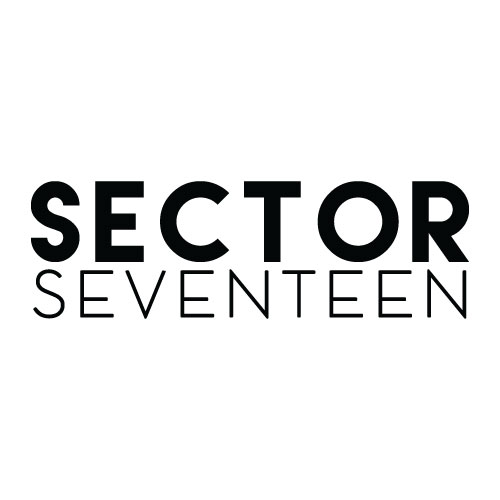 Sector Seventeen
(Boise, Idaho)
ELMS and MAWK 1 are a team specializing in large scale murals. Our roots derive from the graffiti aesthetic and are merged with elements of realism and abstract design. Sector Seventeen will be live mural painting at Greyhound Station.
---
2023 TREEFORT GALLERY
The 2023 Treefort Gallery will feature a handful of works from different visual artists. The Gallery is located inside Alefort within Julia Davis Park. Treefort Gallery (and Alefort) are free and open to the public of all ages. Treefort 11 Gallery artists include:
Walter Gerald
(Boise, Idaho)
Walter Gerald is an animator and illustrator based in Boise, Idaho. Credits for his formal education go to The University of South Carolina's School of Journalism and Mass Communication, The School of Motion and Youtube University. When not immersed in the next great visual storytelling adventure, he enjoys cycling, drinking wine on patios and the consumption of baked goods. Gerald will create an animated video installation in the Treefort Gallery.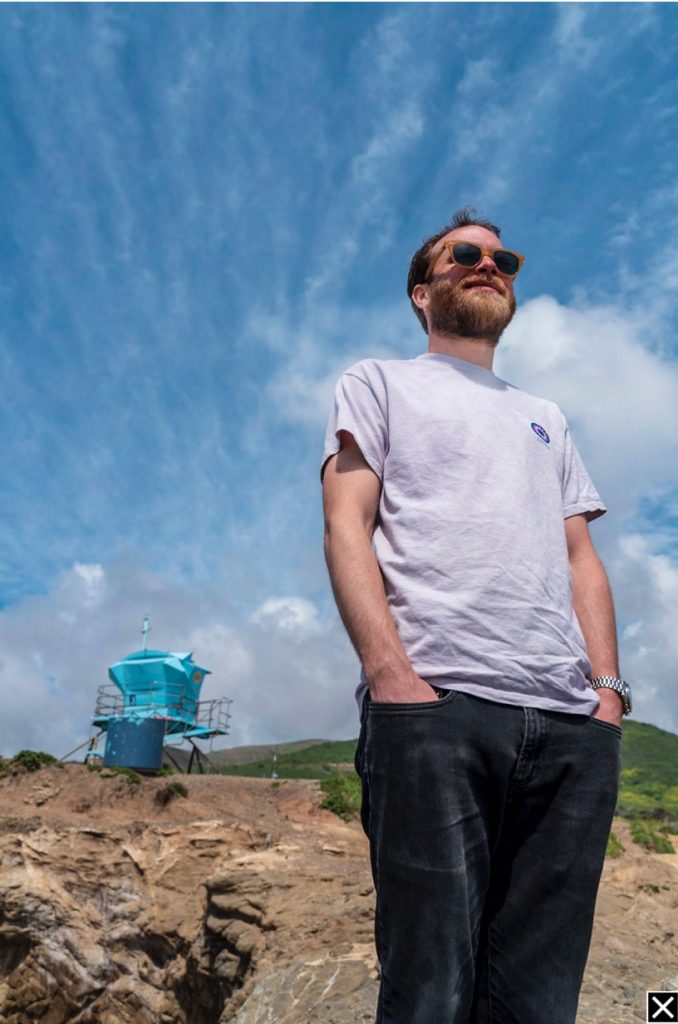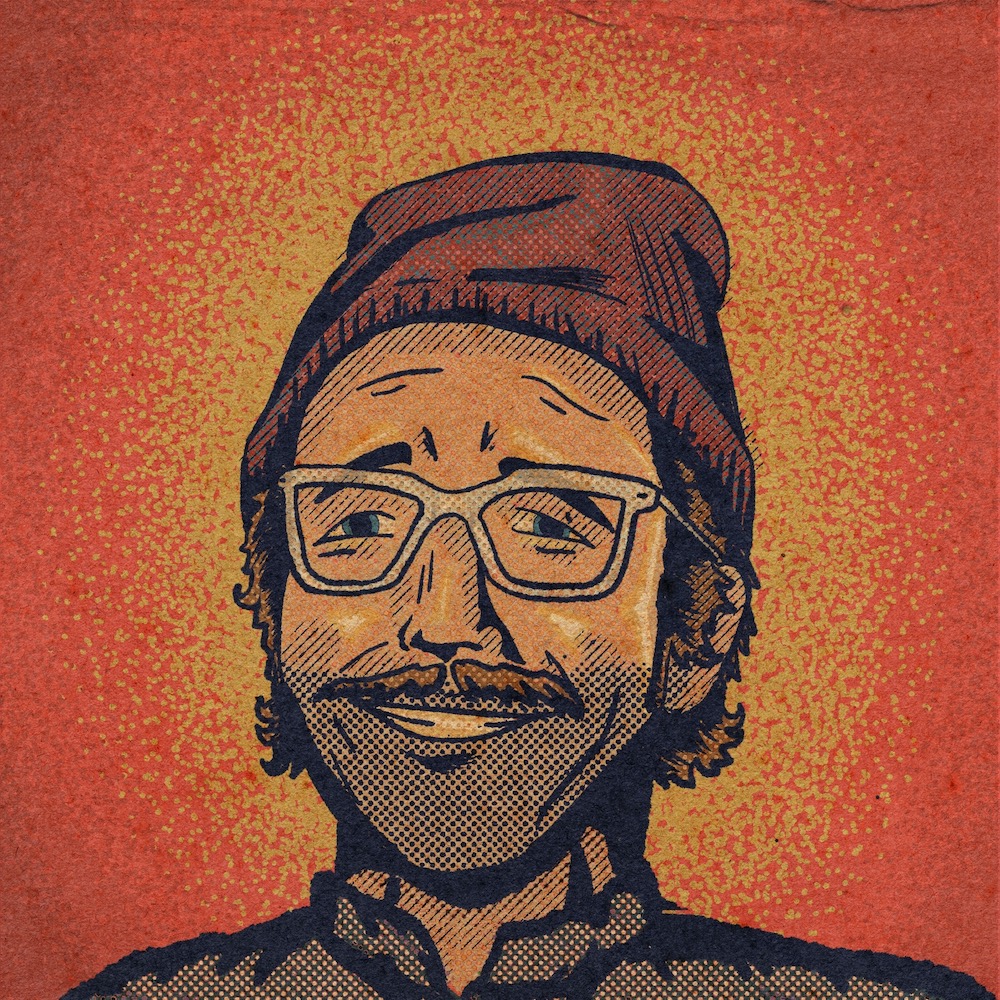 Auberon Design
(Denver, Colorado)
Joe Murray is a digital artist and muralist living in Denver, Colorado. His unique illustrative style explores themes of self-worth, creativity and personal growth through abstracted portraits. Murray harnesses a keen sense of visual storytelling, using symbolism to weave detailed threads throughout his work. You'll find common themes like nature, bright color and nostalgia scattered across his various artworks. Murray is also a skilled character designer, infusing retro style cartoons with humor and lightheartedness. In 2020, Murray started taking on art commissions in exchange for COVID relief fund donations, eventually starting his design business Auberon Design. He has hosted fundraisers for various causes including the Colorado Freedom Fund and The Lilith Fund. He has embedded himself within the local music community, running a monthly artist feature in which he sells artwork with proceeds going back to the featured artist. "Art is vitally important to building tight-knit communities and creating connections. I'm so lucky to be able to play a small part in Colorado's community," says Murray.
At Treefort 11, Murray is live painting a large wooden portrait that grows throughout the festival, posing a question for festival attendees: "How have you grown this past year?" With each answer, Murray will add to the painting.
Chanel Abrianna Talbot
(Boise, Idaho)
Chanel Abrianna Talbot (b. 1994) is a visual artist living in Boise, Idaho. She obtained a Bachelor's of Fine Arts degree with an emphasis on photography from Boise State University and is currently working as an adjunct professor at her alma mater. Talbot's work incorporates various photographic and mixed media techniques to explore themes of psychology, the occult, religion, and folklore.
For Treefort 11, Talbot has created a series of 22 tarot card-inspired collages created exclusively for the event. Each design will highlight themes of connection, healing, and self-empowerment to bring inspiration and value to people's experience as they walk or drive around our community.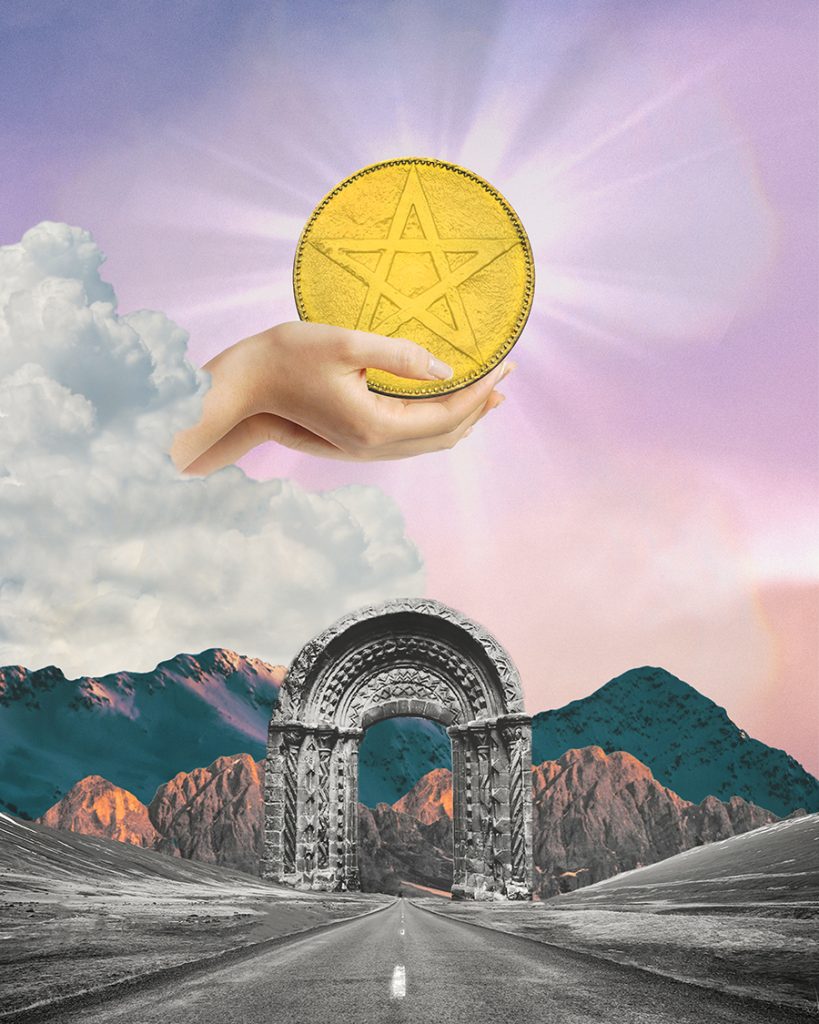 ++ more artists to be announced soon!